I had a bit of a revelation the other day. Not perhaps that ground breaking but surprising to me. I own quite a lot of patterns, and I rarely use any of them. Similarly I have a lot of fabric to make those patterns up, and I rarely sew with it. Now up to this point I had just assumed I was lazy. All those projects just waiting and me not being organised enough to bother. It niggled at me, made me feel a bit of a failure. Which is obviously ridiculous as I haven't failed and this is meant to be a hobby!
But perhaps its not entirely that. Perhaps it's more that I also own about a bajillion bits of clothing already. Most of which look uncannily like the patterns. I haven't made 10 extra pencil skirts because there is just no need for me to do so. Not that's not so say that making stuff you don't need isn't an excellent thing to do, but there certainly isn't much pressure.
So that's half my stash explained. I don't need it and I don't want it enough to bother making it. Not sure what I do with that knowledge now but I shall think on it.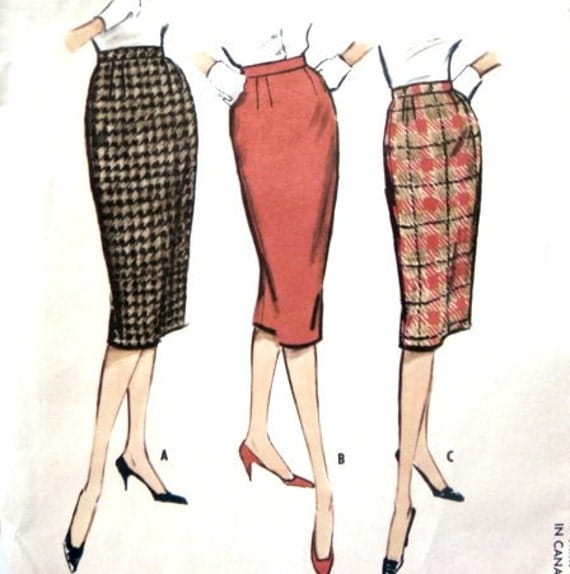 So what about the other half?
That's mainly fear (with a decent wedge of actual laziness this time!). This is all the fabric and patterns I bought for projects that I don't feel confident to start and/or are worried will become an endless fitting nightmare that I shan't finish. This is mainly two categories: difficult fabrics, and bodice fitting.
So what should I actually be trying to sew?
Clearly my hungry fabric hoarder instincts are completely off.
As I am going through a hating everything in my wardrobe phase, this seems like a good moment to re-assess. I currently feel a bit dumpy and frumpy in my clothes. I know this is just my own silliness but it happens to us all! I have no desire to be generally fashionable, I'm happy to have my own style but I think I could do with a bit of updating. Having said that a lot of current fashion seems to be even more boring than my current wardrobe so clearly I shall have to be selective!
FRUMP- AN-ECTOMY
I decided to get systematic. Which aspects of my wardrobe make me feel most like a big unfashionable lump, and what can I do to spice them up?
PROBLEM - A lot of my tops are at least 5 if not 10 years old. They look it. They are also all the same.
SOLUTION - make more, some using my flutter sleeve t-shirt sloper that makes me feel a bit more dressed up than a standard T.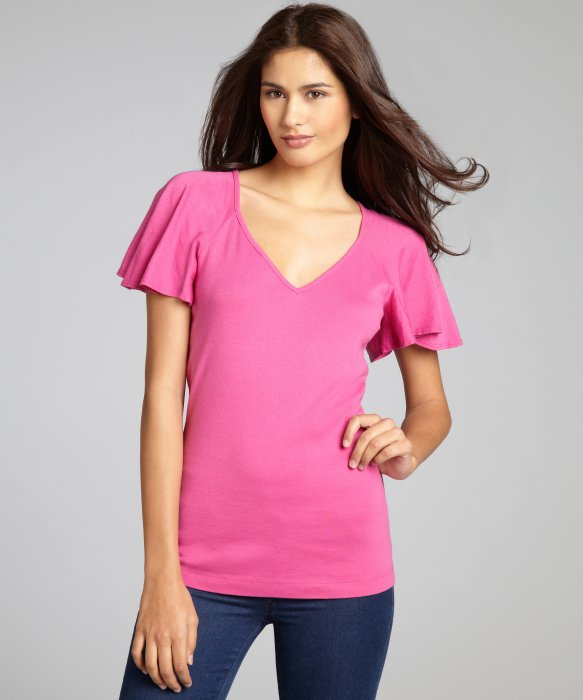 It looks generally like this.
Tops bunching around the waist/leaving lines under pencil skirts
PROBLEM a lot of the aforementioned T-shirts aren't quite the right length, they ride up and bunch, or make me less sleek under clothes.
SOLUTION Make some
Nettie bodysuits
. This has the advantage that I already have the pattern.
PROBLEM: I have a large bust, so nothing fits me in a woven without substantial alterations. Which we have established puts me off. In an attempt to get round this I have previously bought very simple patterns to get the hang of it without bothering with the additional drama of sleeves, collars, buttons etc. These however aren't actually things I want to wear or make. So I didn't.
SOLUTION: just bite the bullet and make a proper shirt I actually fancy wearing. I often find simple shirts a bit dull/officey so I have selected the Bruyere from
Deer and Doe
. It's got enough detail that it looks like it should be fitted without being too extremely tight.
PROBLEM I wear cardigans with everything. I am often unconvinced by how they look (a bit middle aged on my figure) and the ones I have all seem to be wrong colours somehow. But I need layers - my body temp goes all over the place all day!
SOLUTION: this was a bit harder and required some internet research (ie looking at some high street websites to see what the cool kids are wearing).
Option a)
cropped jumper / sweatshirt
. I quite like these, good length on me but do lack the warmth middle ground option of an open cardigan.
I also already own Astoria from
Collette's Seamwork
magazine. I shall drop the neckline a bit.
Option b)
kimono tops
. I love this - particularity when they are either made in plain colours, or still jazzy but simplified, like these examples.
(
Dorothy Perkins
)
(
also Dorothy Perkins
)
Again, luckily! I already own the
Asaka kimono from Named
. The sleeves are a little wild for everyday buts it's a good pattern (I'll save the sleeves for a dressing gown or something!
So that's the plan - we shall see if it works out!